Online Access and Data Reporting
Customizable Features and Benefits
Remington Evaluations provides you 24/7 access to your shopping reports from any computer. You will have your own secure login so that you can view your shops and cumulative data from anywhere at anytime. We will provide all of your designated staff with secure credentials that will allow them to see only that data that you want them to see. Give each of your managers a rich visual presentation of their leasing consultants performance.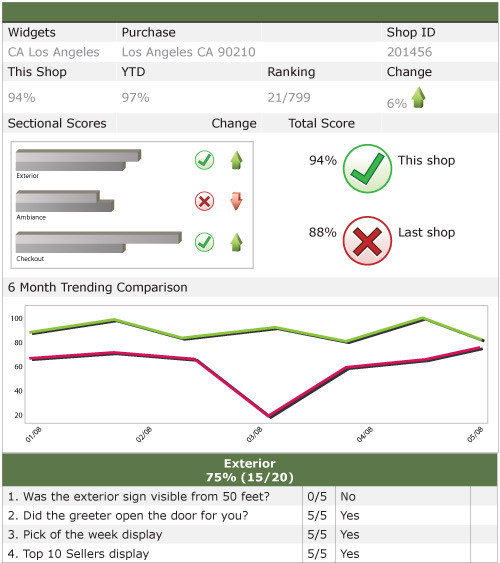 Our Report Headers go way beyond the usual questions and answers. They present the information in full color graphics that illustrate each leasing consultant's performance with company and historical context.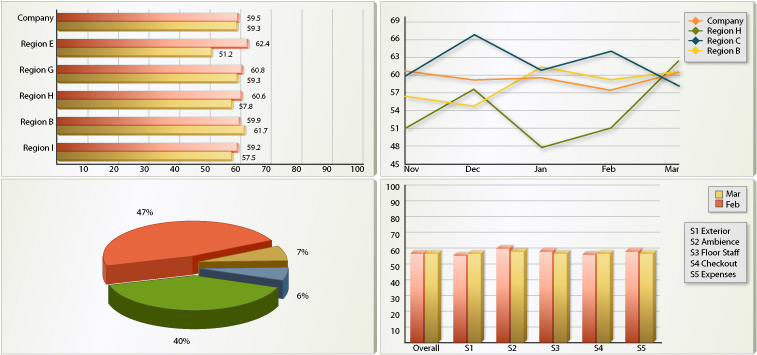 Don't have time to navigate and hunt through reports on a daily basis? Our New Dashboards bring the shop information to your as soon as you log in. You and your staff can receive performance metrics tailored to each person's permission level. Four Quadrant Dashboard—Just want to highlights? The Four Quadrant Dashboard delivers four no-nonsense reports that focus on the critical areas you need to know on a frequent basis—trending, rankings, score distribution and more.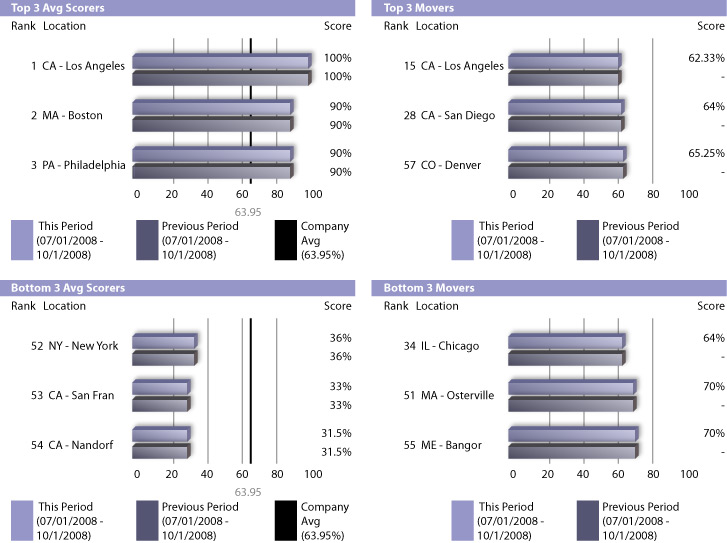 Do you want to know Who's HOT and Who's NOT? Our Who's Hot and Who's Not report puts the spotlight on the strongest and weakest performers. This gives you the ability to instantly identify the high and low scorers as well as the biggest movers. This data can be shown by community, region, district, etc. SAMPLE REPORT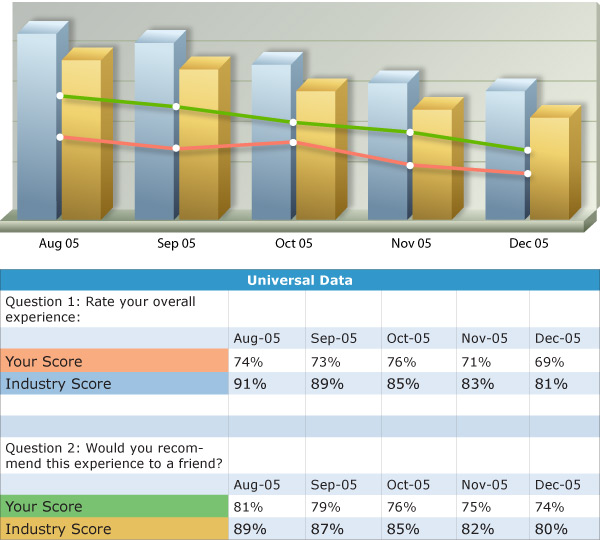 How do you compare to your competitors in the industry? Our Benchmarking report allows you to answer that question yourself. All of our evaluations are embedded with a set of universal questions specific to key property management industry metrics. The answers to these questions are stored our database. Our system will generate global averages across the industry and provide crucial data on how you are doing against others in the industry.
Get Good / Bad Score Alerts : Get notified instantly when your leasing consultant scores above or below a specified threshold. You decide the threshold and we will make sure you are made aware each time a report comes in.
View Statistical Reports and Graphs - Remington's online system can provide you with the capability of generating reports. You no longer have to spend time transferring the data into an excel spread sheet to generate your graphs. With the customizable report and graph features we do all of that work for you. Click here to see DEMO
Recorded Phone Call Capability - Our Online system also has the ability to record phone calls. Your recorded calls will be directly attached to the end of the evaluation for your review. Unlike some other services that record all of your calls, you no longer have to search through 30-50 calls to hear the one you really want.